Top 10: Best Blue Light Blocking Glasses
It's not a myth: blue light makes your eyes tired!
With all the hours spent per day in front of a screen (computer, smartphone, TV...), it's not surprising that we complain more and more about not sleeping well or ending the day with a headache.
But an effective solution exists with blue light blocking glasses!
However, with the increasing number of brands on the market, it can be difficult to know which ones to choose. To help you, we've compiled for you a ranking of the best blue light glasses brands.
1: The best of the best blue light blocking glasses: Œil-Bleu
Of course we think our blue light blocking glasses are the best! We take special care to offer you the best quality: our lenses perfectly filter blue light to save you from visual fatigue and sleep disturbance. In addition, we also make sure to offer you a wide choice of frames that are as trendy as they are comfortable to wear. No matter what style you prefer, you can be sure you'll find the pair of glasses that will suit you. You won't be disappointed!
👉 Where to shop them ? Œil-Bleu.com
But to be fair, we also have to recognize the talent of other brands!
2: The best blue light blocking glasses to be stylish: Quay Australia
Just because we protect our eyes from the blue light doesn't mean we have to give up style. And when it comes to eyewear, if there is one model that will never go out of style, it's the Aviators! Quay Australia has teamed up here with Chrissy Teigen (model and wife of John Legend) to revisit the Aviators in a unique look, with a few touches of glitter on the frame. It's both discreet and very stylish, and this pair of glasses not only blocks blue light, but also offers full UV protection.
👉 Where to shop them ? Nordstrom.com
3: The best blue light blocking glasses for the office: St Michel
For discretion, they are perfect! These blue light blocking glasses have an extra-thin frame that weighs only 0.5 oz. This makes them easy to forget, which is great if you're not used to having glasses and need to wear them for long hours at a time because of working at the computer. Very simple, these glasses are designed for both women and men, and they are also available in a variety of colours to keep a touch of style!
👉 Where to shop them ? EyeBuyDirect.com
4: The best blue light blocking glasses for the end of the day: Felix Gray
Between Netflix and checking on social medias, you're very exposed to blue light at the end of the day. But as you want to relax, it's best not to choose just any glasses! It's best to choose a comfortable pair that's not too heavy, that doesn't hurt your nose and that you can wear all evening without any problem. And this is the case with these Felix Gray glasses which are very pleasant, as much by their lightness as by their design. Moreover, they are handmade and the lenses not only filter blue light, they also eliminate reflections!
👉 Where to shop them ? FelixGray.com
5: The best blue light blocking glasses for reading: Zenni Optical
Don't think you have to choose between prescription glasses and blue light blocking glasses! More and more brands are offering to integrate a blue light filter on corrective lenses, and Zenni Optical is a part of them.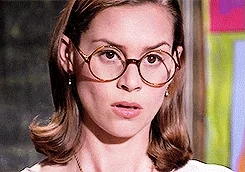 With this type of glasses, you can easily read while still protecting yourself from blue light. Besides, what we particularly like about this shop is that it offers a wide range of frames at very reasonable prices!
👉 Where to shop them ? ZenniOptical.com
6: The best blue light blocking glasses to avoid migraines: MVMT
Ah, the famous end-of-day migraines! Wearing blue light glasses alone will help you reduce the frequency of these migraines. However, we also advise you not to choose just any frame, but rather to choose a light and comfortable frame. In this case, this pair from MVMT is exactly what you need because it's made of cellulose acetate and could not be more discreet. With it on your nose, you can say goodbye to the headaches that regularly spoil your evenings!
👉 Where to shop them ? MVMTWatches.com
7: The best blue light blocking glasses for a small budget: Cyxus
Looking for a good deal? We recommend the blue light blocking glasses from Cyxus! In addition to a very attractive price, their look has been specifically designed to fit all shapes of faces (round, square, oval, etc.) and they are available in a very wide choice of colours and patterns. Besides, they also incorporate an anti-reflection filter, which means that no one will know you are wearing glasses to avoid visual fatigue and headaches at the end of the day!
👉 Where to shop them ? Cyxus.com
8: The best blue light blocking glasses for gaming : Uvex
Do you spend several hours a day playing video games? Then you don't need classic glasses, but rather glasses with blue light tinted lenses. On these Uvex, the lenses are yellow and they are able to absorb up to 98% of the blue light emitted by your computer or smartphone! This is ideal for not disturbing your sleep and avoiding insomnia. They are not necessarily the most elegant, but sometimes it's better to put health before looks!
👉 Where to shop them ? Amazon.com
9: The best blue light blocking glasses for solidity: Sojos
Metal branches and polycarbonate frame, these Sojos don't joke about solidity! Everyone who wears them agrees that they don't look cheap, and indeed, they are not blue light blocking glasses that break in half if you're unlucky enough to drop them! What we also like about this model is that it is very elegant with its rounded shape, and as it comes in different colours, it can suit both women and men.
👉 Where to shop them ? Amazon.com
10: The best blue light blocking glasses for conveniency: Spectra479
You already wear glasses and your exposure to blue light is minimal? Why not give this original clip-on frame a chance? This way you can continue to wear the glasses you have carefully chosen, but as soon as you are in front of screens, you will be able to position these blue light blocking lenses. Thanks to their tint, they're highly absorbent, and they're perfect for helping you get a good night's sleep if you spend a lot of time in front of the TV before going to bed.
👉 Where to shop them ? Spectra497.com
---